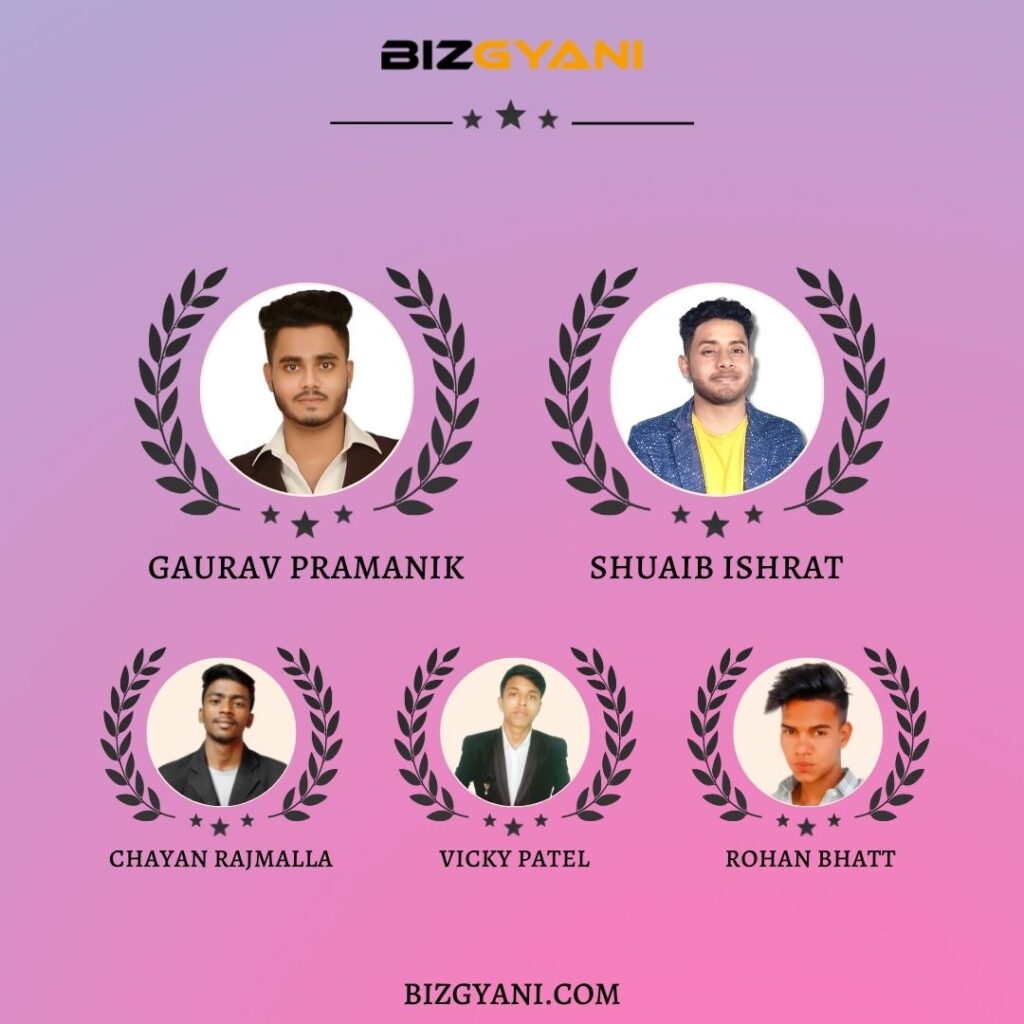 Founders of Bizgyani are five young guns – Gaurav Pramanik, Shuaib Ishrat, chayan Rajmalla, Rohan Bhatt and Vicky Patel — from India who focused on solving problems and not complaining about it.
We have witnessed the professional world going upside down in the last one year, where Uncertainty was at its peak and people were smashed on the ground with Lockdown. At one place, it was sheer helplessness and on the other hand, few minds were running at 10x speed to find the solution rather than thinking of the problem. Bizgyani is one such organization that played a vital role in this pandemic by offering an incredible earning opportunity to several people in addition to efficient training programs to prepare for the future. Founder of Bizgyani Mr. Gaurav Pramanik from Delhi who focused on solving problems and not complaining about it.
Gaurav Pramanik (Founder & CEO) – His vast experience in the marketing field found a huge gap in the market while working with international brands in affiliate marketing which eventually forced him to build a proper system and training coupled with online education in India. The idea of EdTech is not unique, he knew this but collaborating it with affiliate marketing has helped him bootstrap the whole idea and make it into a well-known brand today in the market. An online education platform which provides living to many people today by sitting and working from home is no less than a blessing for the masses of this country aspiring to leverage the power of the internet and social media. He then joined hands with four other friends:  Shuaib Ishrat, Chayan Rajmalla, Rohan Bhatt and Vicky Patel and named this venture 'Bizgyani'. Name itself represents the vision; it's an institution, a Gyani to learn Business, a New Age business. It aims to promote the skills of marketing and entrepreneurship in this age of abundant but less organized information. This trio is determined to take this responsibility and change the face of online learning platforms, not by talking but creating one.       
Shuaib Ishrat (co-Founder) and Chayan Rajmalla (COO) they are expert professional in sales, marketing and entrepreneurship. They are phenomenal public speaker and an extremely unconventional mind who does not think of what society says rather focuses on what society needs. They love experimenting with new projects. Though they joined the training industry and began coaching for soft skills and personality development with a simple mission to impact lives. However, with more than 3 years of experience, they were confident enough to start something of their own which resulted in the rise of Bizgyani.
Talking about Rohan Bhatt (CMO) and Vicky Patel (GM), with their decade long experience with multi-national organizations as a trainer, motivational speaker and leadership consultant, they personally has mentored many start-up owners & young entrepreneurs and encouraged them to think beyond fear. They has always dreamt and worked with new ventures to come up and make this country proud of its creators. Though he has been a co-creator of some other start-ups, Bizgyani is really close to their heart. This made them put extra efforts to bring their idea up in the market and make it reach the best audience possible. 
Company started on 1st feb 2022 with a vision to make Bharat Atma-Nirbhar in this pandemic, this team has taken Bizgyani to an exceptional level of success in just 5-6 months of time. Organization has already distributed a sum of 30 lacs through its affiliate program and its back-end team consists of 5-6 people and the company is planning to expand it by 20-30 people in the next 12 months. The amalgamation of practical skill-based courses, live training and personal mentorship with a platform to achieve financial goals is a secret recipe for this successful platter. It is one multifaceted learning hub planning to reach 10,000 students by this year end and it seems they have the capacity to cross this figure before date. With a clear vision of Gaurav Pramanik and the persistent hard work of team today. Bizgyani has becomes favorite company for young youth in no time because of these five pillars.
Kudos to the whole team!
BizGyani = https://bizgyani.com/