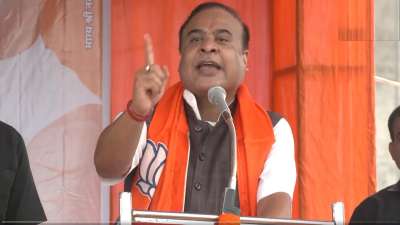 In a spirited address during the BJP's 'parivartan yatra' campaign in Surajpur, Chhattisgarh, Assam Chief Minister Himanta Biswa Sarma has once again challenged senior Congress leaders Kamal Nath and Bhupesh Baghel. Sarma called on these leaders, who assert their Hindu identity, to accompany Sonia Gandhi and Rahul Gandhi to Ayodhya's Ram Mandir for obeisance.
Addressing the crowd, Sarma stated, "Kamal Nath ji in Madhya Pradesh and Bhupesh Baghel in Chhattisgarh say that they are also Hindus. I challenge them that if they are Hindus, then they should take Rahul Gandhi and Sonia Gandhi to Ayodhya's Ram Lalla temple once." This challenge forms part of the ongoing political discourse as the country approaches assembly elections in various states.
Sarma also expressed concerns about what he described as a conspiracy against "Sanatana Dharma" in Chhattisgarh, emphasizing the Opposition's role in creating an atmosphere that he deemed to be anti-Hindu.
"A conspiracy is being hatched against Sanatana culture in Chhattisgarh. Since Bhupesh Baghel was elected as chief minister, the influx of Rohingya (refugees from Myanmar) in the state has become a major issue," Sarma asserted. He further criticized the Congress for allegedly allowing illegal entry of Bangladeshis into Assam and called on the Opposition to openly acknowledge their Hindu faith.
Sarma encouraged the Opposition to learn from former Prime Minister Atal Bihari Vajpayee, who had praised India during his address at the United Nations, regardless of the political climate. The Assam CM expressed his belief that there would be a change in Chhattisgarh's political landscape, with people giving Prime Minister Modi's party the opportunity to form the government.
The upcoming assembly elections in states like Madhya Pradesh, Chhattisgarh, and Rajasthan are expected to be closely watched, as the results will set the tone for the crucial 2024 Lok Sabha elections. These states will witness a direct contest between the BJP and the Congress, making them critical battlegrounds in the political arena.
Sources By Agencies