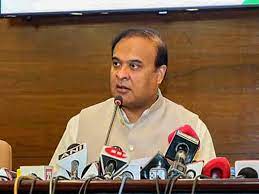 Assam Chief Minister Himanta Biswa Sarma has taken a swipe at the Supreme Court's recent relief granted to Congress leader Rahul Gandhi in the 'Modi surname' defamation case. The apex court on Friday stayed Rahul Gandhi's conviction in the 2019 defamation case, leading to a war of words between the two political figures.
In response to the court's decision, CM Himanta Biswa Sarma highlighted three specific sentences from the Supreme Court's order that he believed were not adequately emphasized during what he referred to as the "so-called celebration." Taking to social media platform X, formerly known as Twitter, Sarma pointed out the following key points from the court's ruling.
Firstly, Sarma quoted paragraph 8 of the court's verdict, where the Supreme Court stated that Rahul Gandhi's utterances were "not in good taste." The court highlighted that individuals in public life should exercise a degree of restraint while making public speeches and should be more careful with their words. The mention of Rahul Gandhi's 2019 contempt case in the same context underscored his credibility as a repeat offender.
Secondly, the Chief Minister highlighted the court's clarification that the stay on Rahul Gandhi's conviction would not influence the ongoing appeal process at the lower court.
Earlier, after the apex court stayed Rahul Gandhi's conviction, Himanta Biswa Sarma had taken a jibe at the Congress leader, accusing him of duplicity. He stated, "Heights of duplicity! You abuse the judiciary when you get convicted, and when the same judiciary grants you bail, you say justice has prevailed."
The Supreme Court's three-judge bench, comprising Justices B R Gavai, P S Narasimha, and Sanjay Kumar, restored Rahul Gandhi's status as a Member of Parliament, citing the wide ramifications of his conviction on the rights of the electorate who elected him. The bench also noted that the trial judge had not provided a reason for imposing the maximum sentence and thus decided to stay the conviction pending final adjudication.
The defamation case against Rahul Gandhi stemmed from a complaint filed by BJP MLA and former Gujarat minister Purnesh Modi in 2019. Gandhi had made a remark during an election rally in Karnataka's Kolar, questioning the prevalence of the surname "Modi" among thieves.
The recent developments in the defamation case have ignited a fresh round of political debates, with CM Himanta Biswa Sarma and Rahul Gandhi engaging in a war of words over the court's ruling. As the legal proceedings continue, the matter remains closely watched by both the political fraternity and the public at large.
Sources By Agencies