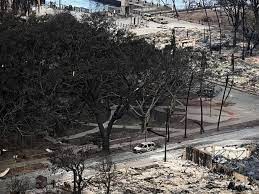 A revered 150-year-old Banyan tree, originally imported from India, is currently facing a perilous battle for survival as devastating wildfires wreak havoc across the Hawaiian island of Maui. This iconic tree, known as "paniana" in Hawaiian, boasts an impressive 46 trunks and stands as one of the largest Banyan trees in the United States. Planted as a modest 8-foot sapling in Maui's Lahaina town in 1873, the Banyan tree has witnessed generations and monumental events that have shaped its surroundings.
The planting of this Banyan tree was to commemorate the 50th anniversary of the first American Protestant missionary in Lahaina, a significant event that has left an indelible mark on the town's history. Originating from India, the tree was situated in front of the Lahaina Courthouse and Lahaina Harbour, gracing Front Street with its sprawling presence. Stretching across an entire city block and towering over 60 feet in height, this majestic tree has provided cooling shade and a sense of history to countless generations of locals and visitors.
As wildfires swept through Maui, the historic town of Lahaina bore the brunt of the destruction. The Banyan tree, a beloved landmark and symbol of resilience, has not been spared. Images captured after the wildfires suggest that the tree has been burned, but remarkably, it remains standing. While the extent of damage is uncertain, there is hope for its recovery as its roots, if healthy, could enable regrowth.
Theo Morrison, Executive Director of the Lahaina Restoration Foundation, expressed optimism about the tree's survival, stating, "I tend to believe it'll be fine. It's really very hard to kill a Banyan tree." She shared her belief that the tree's strength and adaptability will likely see it through this challenging time.
The Banyan tree, not merely a living landmark but an integral part of Lahaina's identity, has served as a focal point for events, art exhibits, and leisurely gatherings. With a sprawling canopy that shades nearly two-thirds of an acre, the tree's health and shape have been diligently maintained by the Maui County Arborist Committee.
Amidst the tragic toll of the wildfires in Maui, where over 55 lives have been lost and thousands remain displaced, the fight for the survival of this venerable Banyan tree represents a beacon of hope, resilience, and the enduring spirit of Lahaina.
Sources By Agencies