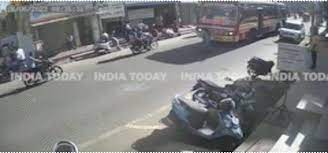 In a heart-wrenching incident, a 39-year-old woman named Pappathi from Salem met a tragic end after she threw herself in front of a moving bus, driven by the desperate hope that her death would secure compensation to support her children's college education. The Salem Police have since altered the case, taking into account the recently obtained CCTV footage that sheds light on the circumstances leading to her demise.
Pappathi, a temporary sweeper at the Salem collectorate, left behind two children who are pursuing higher education. Her daughter is in the final year of an Electronic Engineering course, while her son is studying Architecture at a Polytechnic college. The financial burden of their college fees seems to have driven Pappathi to take a drastic step, seeking a means to provide for her children's education even after her passing.
The 48-second CCTV video, which NDTV cannot independently verify, captures the tragic incident. It shows Pappathi walking on the side of the road, facing the traffic, before abruptly crossing the road towards an approaching bus. As the vehicle collided with her, she was thrown off and tragically lost her life on the spot. Initially registered as a case of death by accident, the police have now decided to alter the case following the emergence of this crucial evidence.
Authorities are now investigating the circumstances surrounding Pappathi's decision, suspecting that she may have been misled or misinformed. It is believed that someone may have given her false hope regarding the availability of compensation to aid her children's college fees. The police, determined to uncover the truth, are conducting a thorough investigation into the matter.
However, Pappathi's son has denied the reports, referring to them as "fake news." He has chosen not to disclose his name but revealed to NDTV that their relatives have been assisting them in paying their college fees. He remains confident that the truth will come to light soon, dispelling any misconceptions surrounding his mother's tragic demise.
This deeply saddening incident highlights the plight of many families facing financial hardships and the extreme measures some may consider in desperate situations. It serves as a stark reminder of the importance of accessible education and the need for support systems to aid those struggling to afford it.
As investigations continue, authorities aim to shed light on the circumstances leading to Pappathi's tragic decision. The hope is that through a thorough examination of the evidence and a better understanding of the events that unfolded, further steps can be taken to prevent similar incidents and provide assistance to families in need.
In the wake of this heartbreaking incident, it is crucial for society to come together to address the underlying issues that push individuals to such desperate measures. Efforts should be made to create awareness about available support systems and ensure that education remains accessible to all, regardless of financial circumstances.
Sources By Agencies