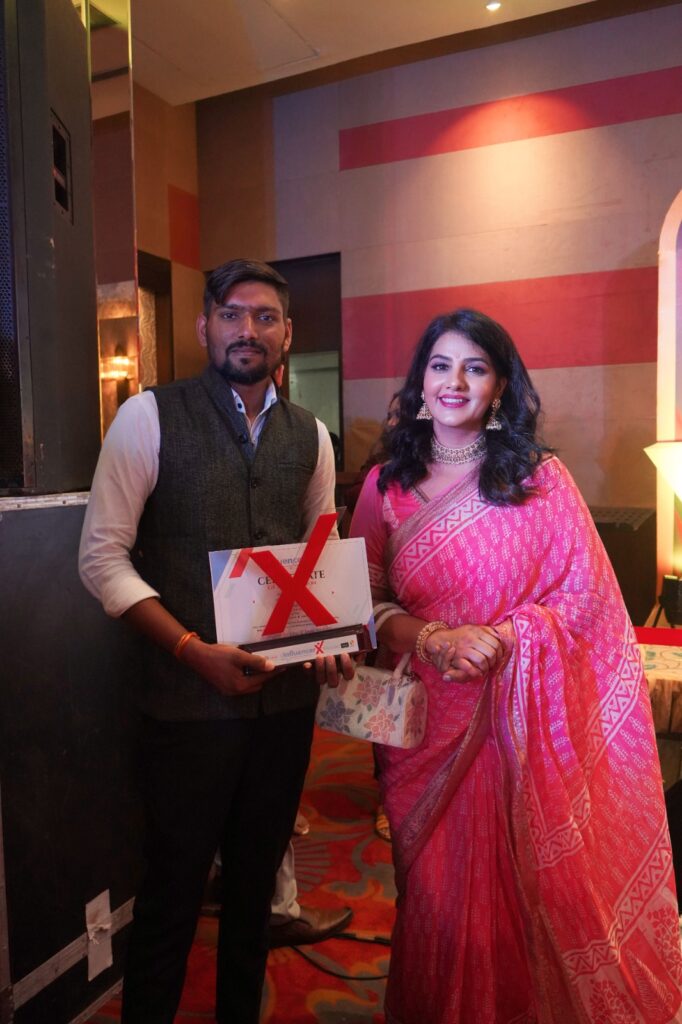 Bhopal, MP – In a dazzling display of talent and expertise, Shubham Patidar, a certified freelance digital marketer hailing from Bhopal, bagged the prestigious Influencer X Award in the category of Digital Marketing at the grand Influencer X Award Show 2023 held at Motel Shiraz. This achievement marks a significant milestone for Shubham, who has earned a stellar reputation for his exceptional skills in managing the PR and social media presence of artists and influencers.
The Influencer X Award Show, touted as Central India's biggest influencer award show, attracts talent from all corners of the region. With fierce competition in every category, Shubham's victory underscores his mastery of the digital marketing realm and his unwavering dedication to his craft.
Shubham Patidar's journey in the digital marketing industry began as a passionate individual keen on harnessing the power of social media to make a significant impact. Over the years, he honed his skills and refined his strategies, ultimately becoming a sought-after professional in the field.
Shubham's expertise primarily revolves around managing the public relations and social media campaigns of artists and influencers, both locally and nationally. His knack for understanding the nuances of different niches and tailoring his marketing strategies accordingly has earned him accolades within the industry.
When asked about his feelings regarding this remarkable win, Shubham Patidar expressed his gratitude and said, "I'm absolutely thrilled and honored to receive the Influencer X Award for Digital Marketing. It's a testament to the hard work and passion I've poured into my career. I want to thank all the clients, collaborators, and my family who have supported me throughout this journey."
The award ceremony, held at the luxurious Motel Shiraz, was attended by the who's who of the influencer marketing industry. Dressed in an elegant black suit, Shubham received a standing ovation as he accepted the trophy and shared his thoughts on the ever-evolving landscape of digital marketing.
The Influencer X Award Show is an annual event that recognizes outstanding talent across various categories within the influencer and digital marketing space. The rigorous selection process ensures that only the most deserving individuals are acknowledged for their contributions to the industry.
Shubham's winning campaign, which secured him the award, was centered around a holistic approach to digital marketing. He emphasized the importance of genuine engagement and interaction with the audience, tailoring content to resonate with their interests and preferences. This strategy not only garnered impressive numbers in terms of followers and likes but also generated tangible results for his clients.
Shubham Patidar's journey in the digital marketing world has not only earned him recognition but has also contributed to the success stories of numerous artists and influencers under his wing. His dedication to staying updated with the latest trends and innovations in the field has played a pivotal role in keeping his clients ahead of the curve.
Shubham's clients often speak highly of his commitment to their success. Simran Kapoor, a budding singer whose career took off under Shubham's guidance, remarked, "Shubham is more than just a digital marketer; he's a visionary. He understands not only the technical aspects of marketing but also the heart and soul of the artist. He knows how to create a narrative that resonates with the audience, and that's what sets him apart."
In an industry where competition is fierce and trends are constantly shifting, Shubham Patidar's consistency and adaptability have been key to his achievements. His strategic approach to digital marketing, coupled with a deep understanding of the human aspect of the business, has catapulted him to the top tier of influencers in the industry.
Shubham's win at the Influencer X Award Show 2023 serves as a testament to his talent and dedication. It's a recognition of his ability to not only navigate the ever-evolving digital landscape but also to leave an indelible mark on the industry.
As Shubham Patidar continues to thrive and inspire the world of digital marketing, his story serves as a source of motivation for aspiring professionals in the field. His journey reminds us that passion, hard work, and a commitment to excellence can lead to remarkable success, even in the most competitive of industries.
With his latest accolade in hand, Shubham Patidar's future in the world of digital marketing looks brighter than ever. As he sets his sights on new challenges and opportunities, one can only wonder what groundbreaking campaigns and strategies he will unveil next. Shubham Patidar has truly become a digital marketing luminary, and the Influencer X Award is just one of many milestones in his remarkable journey.