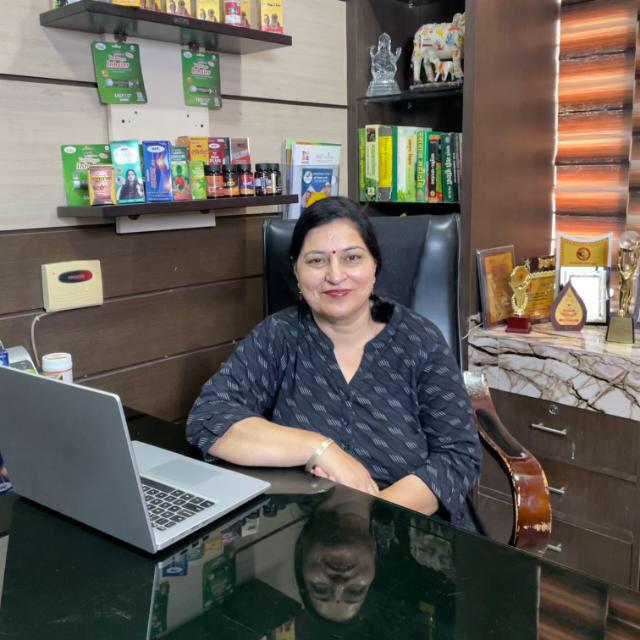 Ayurveda is one of the most renowned traditional systems of medicine that has survived and flourished from the last 3000 years. From being efficacious to being highly devoid from adverse effects, the Ayurveda has boundless qualities and values. With the enormous knowledge of nature-based medicine, the relationship of human body with nature and the elements of the universe that act in coordination and affect the living beings, Ayurveda will continue to flourish in ages still to come.
Apprehending the potential and significance of Ayurveda, IMMUNO LIFE PVT LTD is one of few trusted and esteemed Ayurvedic company that manufacture numerous adequate and quality products including "30 M Mealthy Syrup", "30M Boost Up", " 30M Liver Tonic", "30M Massage Oil", " 30M Shilajit Resin", "30M Acidity Syrup" and "30M Bhringraj Onion Hair Oil". IMMUNO LIFE PVT LTD also manufactures herbal cosmetics known as" Oolha Cosmetics" which are essentially Paraben , Sulphate and silicon free making Oolha products the first choice among customers. Some "Oolha Cosmetics" products includes" Oolha 7 in 1 shampoo"," Oolha 7 in 1 face wash"," Oolha D – Tan Face wash and Scrub", "Oolha Kumkumadi serum"," Oolha Tea Tree Serum", etc.
All range of products IMMUNO LIFE PVT LTD provides are well sterilized, comprehensive and unadulterated Ayurvedic and cosmetic products, which are made for all skin types and ages. All products are based on extensive analysis and experimentation. All the Ayurvedic medicines are originated in India hence supporting make in India campaign, making it the world's leading producer of Ayurvedic medicines.
IMMUNO LIFE PVT LTD is one of few emerging companies growing exponentially in a very short stretch of time and has achieved a level of distinctness and visuality in the market. The company intent to built awareness in Indians about Ayurveda, and its effectiveness. Comprehending excellent vision and humanitarian values, IMMUNO LIFE PVT LTD have accomplished their names in the upper echelon in the business world.
IMMUNO LIFE PVT LTD being a dynamic & progressive unit has been shaped having state-of-the-art machinery & manufacturing premises. Being updated with modernized scientific information and up-to-date machinery, assists them to meet the massive demands from the clients. The top-notch Manufacturing facilities include Raw Material Store, Packing Material store, external preparation manufacturing areas, QC department, etc. which not only ensures quality but also ensures the accountability of their products.
IMMUNO LIFE PVT LTD's research strategy and implementation are well-supported by a strong intellectual property team having expertise and experience in chemistry and analytical techniques. The company ensures high quality standard implementation across different functions, including research & development, quality and technical operations. IMMUNO LIFE PVT LTD aims is to globalize, harmonize and simplify GMP processes to ensure a sustainable quality culture. The company aims to manufacture authentic, reliable, and highly efficient products in completely hygienic and eco-friendly environment thus ensuring better and assured quality.
If you are finding the Ayurvedic Products like Massage Oil, Hair Oil, Shilajit Resin, Boost Up, Cough Syrup, Liver Tonic, Stress-Free Sleep Capsules, Acidity Syrup, and other Ayurvedic medicines, you can buy Ayurvedic medicines online in India.
To know more visit ayurvedic : https://30mshop.com/product-category/ayurvedic-medicines/
Cosmetics: https://30mshop.com/product-category/oolha-cosmetic-range/