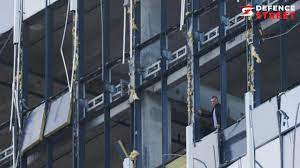 On Sunday, Moscow's Vnukovo international airport witnessed a temporary closure due to drone strikes hitting buildings within the city. The incident was swiftly followed by the Russian defence ministry's announcement of downing three Ukrainian drones over Moscow. While the city's mayor reported insignificant damage to two office towers, no casualties were reported.
The attacks have raised concerns as Moscow and its vicinity, situated approximately 500 kilometers away from the Ukrainian border, had experienced minimal targeting during the ongoing conflict in Ukraine. However, this year, there has been a surge in drone attacks, including on the Kremlin and Russian towns near the Ukrainian border, all of which Moscow has attributed to Kyiv.
According to Russian authorities, one of the drones was shot down on the outskirts of Moscow, while the other two were neutralized through electronic warfare and subsequently crashed into an office complex. Thankfully, no injuries were reported, and the attack was referred to as an "attempted terrorist attack" by the defence ministry.
The Ukrainian counter-offensive to reclaim territories captured by Russia since the conflict erupted in February 2022 has escalated tensions in the region. Russia's foreign ministry has accused the US and its NATO allies of supporting the Kyiv regime, enabling such attacks.
The incident at Vnukovo airport is the latest in a series of drone strikes affecting various regions. Just a few weeks ago, a volley of drone attacks disrupted air traffic at the same airport. Additionally, Russia claimed that it intercepted two missiles over its southern Rostov region bordering Ukraine, with debris injuring at least 16 people in the city of Taganrog. A second S-200 missile was downed near the city of Azov.
Conversely, on the Ukrainian side of the border, a Russian missile strike in the southern city of Zaporizhzhia resulted in two fatalities. Moreover, a missile attack in the northeast Ukrainian city of Sumy led to at least one civilian being killed and five others injured.
The ongoing drone strikes and shelling in regions bordering Ukraine have fueled tensions in the conflict and brought about significant civilian casualties. Both sides continue to blame each other, with Russia asserting that such attacks are only possible due to support provided to the Kyiv regime by the US and NATO allies.
As the situation remains tense, international attention remains focused on finding a resolution to the conflict and preventing further escalation. The incident at Moscow's Vnukovo airport serves as a stark reminder of the fragile security situation in the region and the urgent need for de-escalation efforts.
Sources By Agencies