In recent years, the world of cryptocurrency has witnessed the rise of meme tokens. These tokens, often associated with internet memes or viral trends, have gained massive popularity among crypto enthusiasts, like Dogecoin, Shiba coin, etc. However, many experts argue that most meme tokens lack utility and are purely driven by hype and speculation.
But things are about to change with the introduction of LPP token – a next- generation meme token that promises to bring real-world use case and global opportunities to the world of crypto.
What sets LPP token apart from the rest, is its focus on utility and innovation. Unlike other meme tokens, LPP token has a clear vision of bridging the gap between the digital and physical world. The team behind LPP token has developed a comprehensive ecosystem that leverages the power of blockchain technology based on Binance smartchain (BEP-20) to introduce global opportunities and create tangible value for the token holders.
One of the key features of LPP token is its global marketplace and its utility. Through LPP International Payments debit card, users will be able to use their LPP tokens as a payment option worldwide, because the card will be officially issued by Visa, apart from this people can also make all the utility payments via LPP application shortly, like – bill payments, recharges, DTH & mobile services & much more.
Moreover, LPP token aims to simplify the Web3 and gaming industries via its unique upcoming features to support live gaming where people can play games using their LPP tokens and win lots of exciting rewards.
Crypto enthusiasts from all over the Globe are also participating in the Initial Token Offer (ITO) of LPP, where people bought LPP tokens at a rate of $0.001 in private sale which was just 5% of total supply that raised a total fund of
$1,05,000 in just 4 days, and now it has already been valued at a price of
$0.002, and currently Pre Sale phase-1 has also started.
The one unique feature of LPP token is it's Universal Burning Mechanism, where unlike other meme tokens, the power of burning is not only in the hands
of LPP, but if Anyone does any transaction in LPP, 1% of the transaction will go into burning, which means we can expect higher rates of LPP token, because of this unique burning mechanism. After all, if we look at the tokenomics below,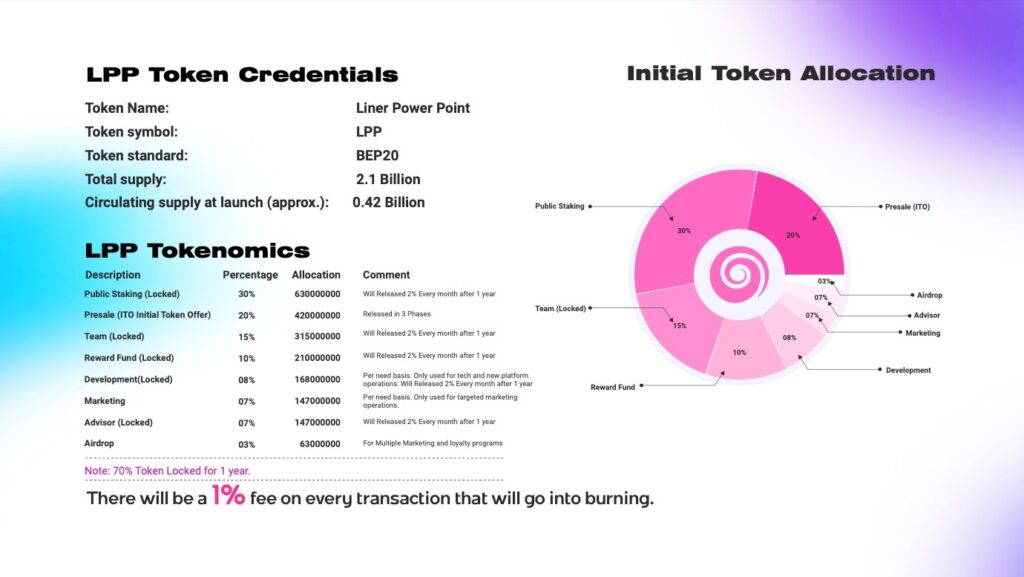 we can see that 70% of the tokens are locked on Decentralised Exchange for 365 days, and only limited supply is available in the market, which also promotes healthy growth of the token prices.
Another best part about LPP token is that anyone can participate globally in 3 ways to make profit,
Firstly, buying the tokens at presale with lower prices and selling on exchange later (ex- LPP will be listed on XT.com on 15th October, 2023 at a price for
$0.006).
Secondly, anyone can participate in the Free Airdrop Distribution program, and get 500 free LPP tokens by just following the social media accounts of LPP token, & first time in the history of Crypto Airdrops, anyone can refer other people for Airdrop & get 100 LPP per refer also. That means if You refer a 100 people you get 10,000 LPP tokens free of cost!
Thirdly, there is a Great Community driven business plan, where users can participate in an affiliate model to earn multiple rewards in the form of Staking rewards & other incomes, where anyone can work with LPP and get amazing rewards.
In conclusion, LPP token represents the next generation of meme tokens that merges innovation, utility, and global opportunities. With its focus on bringing
real-world value to the world of crypto, LPP token challenges the notion that meme tokens are merely a product of internet frenzy. As the crypto market continues to evolve, it is exciting to witness projects like LPP token pushing the limits and reshaping the landscape of digital assets.
For more information, kindly visit www.lppcoin.io Also for daily updates you can follow all the social media handles below: https://linktr.ee/lpptoken